TLJohnson Distributors will be sponsoring an exciting cigar event on November 26 at: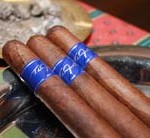 Nickel Cigar
6679 W Ken Caryl Ave
Littleton, Colorado 80128
(303) 904-8760
12:00 Noon to 8:00 PM
Master cigar roller Clay Carlton will be hand rolling cigars from 12:00 Noon to 2:00 PM and again from 6:00 PM to 8:00 PM.
Specials will include:
Buy 3 cigars and get 1 free with a raffle ticket
Buy 5 cigars and get 1 free cigar and a freshly hand rolled cigar from Clay and 2 raffle tickets
Buy a box and receive 4 free cigars, 4 freshly hand rolled cigars and 10 raffle tickets.
Variety packs of TL Johnson, Palma and Jose Dominguez cigars will be raffled off.